48 West Wins Four AMA Spectrum Awards for Content and Advertising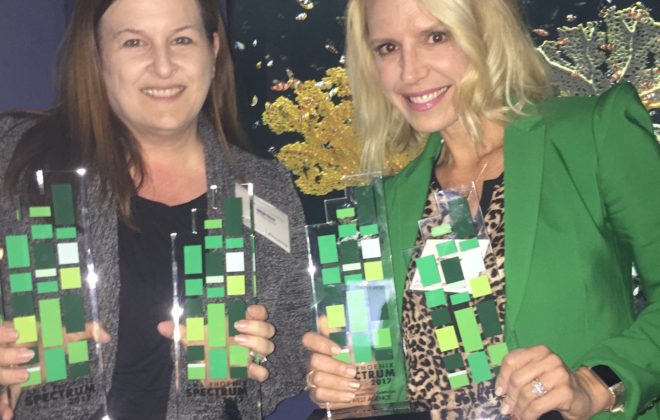 48 West is honored to announce its selection as finalists for eight 2017 AMA Spectrum Awards and its receipt of four awards for content marketing and advertising. The event was held at OdySea Aquarium in the Talking Stick Cultural and Entertainment District in Scottsdale, Arizona and celebrated finalists and winners who submitted their best 2016 marketing campaigns.
This year the team was recognized for their outstanding strategic and creative approach to content marketing projects and the Gallagher & Kennedy print advertising campaign. 48 West was awarded for:
The 48 West team were also selected as finalists in four categories:
Collateral: Brochure
Collateral: Publication
Public Relations: Local
Public Relations: Non-Profit
"This is our first win for advertising," said Leigh Dow, CEO of 48 West Agency. "We created the campaign to reflect folding the firm's knowledge and expertise to solve complex client problems with elegant legal solutions. The ads are a marked departure from their previous advertising creative and designed to stand out from the typical law firm advertisements," said Dow.
The theme served as a metaphor for seeing all the possibilities in one piece of paper by using skill and technique to deliver a finished sculpture. Unskilled origami art uses cuts, glue and other work arounds but real origami artistry uses a high level of skill to create something beautiful. "Modular Origami is the art of putting together a number of identical pieces together to form a complete model," explained Alison Rose, PR Director of 48 West.  "The individual pieces are simple, but the final assembly creates a larger beautiful sculpted piece of art. This is a metaphor for the entire law practice, each individual piece is a single practice area. Equally skilled and capable of standing alone but more beautiful when combined to the larger piece," said Rose.
When the team approached the BASELAYER content campaigns, it was important to move from a product-driven sales approach to an industry solutions provider approach. "Original research and data were the most effective first steps toward building the BASELAYER content marketing campaign," said Dow. "Our research with both current and potential customers highlighted that educating the customer was important. We also identified current customers in each industry utilizing the products to validate assumptions about which features and benefits were most appealing," said Dow.
Strategy Director Kathleen Thompson used research results to help the team craft pieces with decision-making insight into how BASELAYER products could solve some of the customers' most difficult challenges in their respective industries. "Focused research helped us better understand how to demonstrate the value of complex, technology-driven B2B products and their potential applications for customers," said Thompson.
Founded in late 2015, 48 West has built a reputation for delivering exceptional marketing and public relations campaigns for ambitious brands. The team is honored to receive these prestigious awards, and to share the evening with so many talented marketing professionals.