48 West Agency earns two Copper Anvil Awards for special events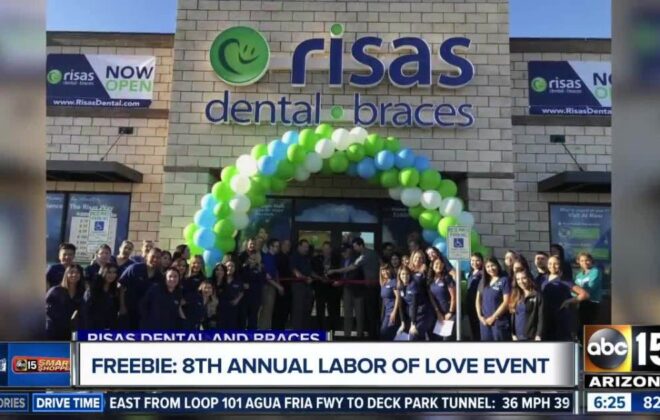 PHOENIX, Ariz., Sept. 17, 2020 – Phoenix-based 48 West Agency (48 West) was awarded the 2020 Public Relations Society of America (PRSA), Phoenix Chapter, Copper Anvil Award for PR management of the Risas Dental and Braces national "Labor of Love" event in 2019. The agency also took home a Copper Anvil Award of Merit for their special events work with Citadel Completions.
Copper Anvil Award for "Labor of Love" PR Special Event Management 
48 West earned the prestigious Copper Anvil award for the Risas Dental and Braces annual Labor of Love event held on Labor Day across the nation. Risas Dental and Braces is the leader in affordable and innovative dental health care. Each year, Risas demonstrates their commitment to giving back in the communities they serve through their signature "Labor of Love" event by providing free dental care at all of their office locations nationwide.
The public relations special event campaign garnered more than 28 million online impressions and the event continues to hold a lasting impact in the communities Risas serves. "The Labor of Love event is so inspiring. They have people queuing in line waiting for dental care the day before the event at each location. Managing the public relations effort and coordinating with news crews and the Risas team was a very rewarding experience," said Alison Rose, Vice President of Public Relations, 48 West Agency.
Copper Anvil Award of Merit for Citadel Completions National Business Aviation Association Event
Letting "the sky's the limit" motto inspire the agency, 48 West created a luxury National Business Aviation Association experience for CitadelCompletions in the Las Vegas Sands private hangar to announce Citadel as the newest entrant in the very
competitive full-scale interior completions for luxury aircraft market. In 2019 Citadel was a new entrant to the competitive Very Very Important Person (VVIP) aircraft interior completions market and turned to 48 West Agency to build a strategic campaign designed to capture the attention of ultra-high net worth (UHNW) individuals.
"48 West solved a marketing challenge for Citadel by positioning the fledgling company in a very competitive industry. Our integrated marketing campaign introduced a conceptual creative concept that successfully communicated how Citadel adds value to an aircraft owner's life and legacy," said Leigh Dow, CEO of 48 West Agency.
The two awards mark new additions to the 48 West 2019, 2018 and 2016 Copper Anvils awarded to the agency, bringing the total to eight.
About the Copper Anvil Awards
The Copper Anvil Awards was established by the Phoenix Chapter of the Public Relations Society of America to encourage and recognize excellence in public relations in the community. A Copper Anvil Award is considered one of the highest honors in the industry. Over the years, hundreds of winning programs have solved problems, changed opinions and created business opportunities.
About 48 West Agency
48 West Agency is an award-winning, agency providing creative solutions to your toughest marketing and public relations challenges. At 48 West, you will find senior executives with Fortune 100 experience leading strategy development that delivers revenue generation. Our teams understand the multi-layered world of global marketing, reputation management, marketing partnerships, and distribution channels.