Leigh Dow invited to join Phoenix Business Journal Leadership Trust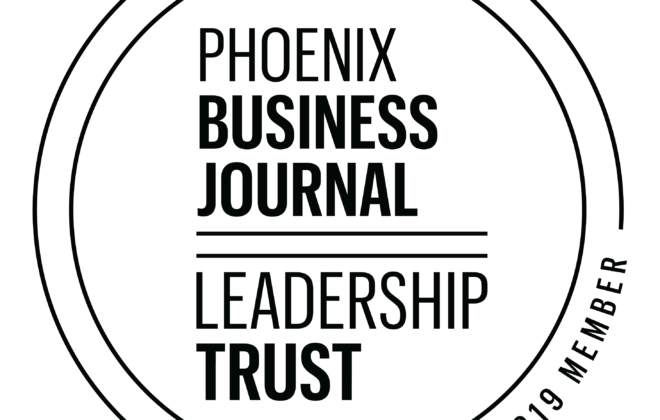 Phoenix Business Journal Leadership Trust is an Invitation-Only Community for Top Business Decision Makers in Greater Phoenix 
PHOENIX, Ariz., Oct. 10, 2019 — Leigh Dow, CEO of 48 West Agency, has been invited to join Phoenix Business Journal Leadership Trust, ​an exclusive community for influential business leaders, executives, and entrepreneurs in Greater Phoenix. 
Leigh was chosen for membership by the Phoenix Business Journal Leadership Trust Selection Committee due to her experience, leadership and influence in the local business landscape and for her work with global brands. Leigh has two decades of Fortune 50, political, retail and international sports and entertainment experience, and is known for crafting creative PR, marketing and communications strategies that deliver strategic results and engage influencers. 
She has a bold reputation for managing crisis communications and solving PR and marketing challenges and is responsible for managing the high-performing, award-winning 48 West team on marketing strategy, brand-building, media campaigns, and content creation on behalf of the agency's global clients. Leigh has led complex initiatives in response to evolving buying patterns and shaped the public profile and reputation for both high profile personal and corporate brands. 
"Phoenix's thriving business community is powered by leaders like Leigh," said Ray Schey, publisher of the Phoenix Business Journal. "We're honored to be creating a space where the region's business influencers come together to increase their impact on the community, build their businesses and connect with and strengthen one another." 
As an invited member, Leigh will contribute articles to the Phoenix Business Journal website and participate alongside fellow members in Expert Panels. She will connect and collaborate with a vetted network of local leaders in a members-only directory and a private forum on the group's mobile app. Leigh will also benefit from leadership and business coaching, an Executive Profile on the Phoenix Business Journal website, select partner discounts and services and ongoing support from the community's concierge team. 
"Women in Phoenix continue to make enormous impacts in the local business community," said Leigh. "I'm looking forward to participating in Expert Panels and interacting with this select group of local executives and thought leaders I greatly admire. My ultimate goal is to encourage more Valley women to pursue entrepreneurship."
The Phoenix Business Journal honored Leigh at the 2018 Outstanding Women in Business awards. She is also a 2018 and 2019 Business Journal Mentor. Leigh is a Board Member of the Public Relations Society of America Phoenix Chapter, National MS Society Arizona Chapter, Challenger Space Center Arizona, Southwest Tennis Foundation, and the Cambridge-based The Loop Lab. 
The Phoenix Business Journal Leadership Trust team is honored to welcome Leigh to the community and looks forward to helping her elevate her personal brand, grow her business, strengthen her circle of trusted advisors and position her to further impact the Phoenix business community and beyond. 
About Business Journals Leadership Trust 
Phoenix Business Journal​ Leadership Trust is a part of Business Journals Leadership Trust — a collective of invitation-only networks of influential business leaders, executives and entrepreneurs in your community. Membership is based on an application and selection committee review. ​Benefits include private online forums, the ability to publish insights on bizjournals.com, business and executive coaching and a dedicated concierge team. To learn more and find out if you qualify, visit trust.bizjournals.com. 
About 48 West Agency
48 West Agency (48W) is an award-winning, full-service agency providing creative solutions to your toughest marketing and public relations challenges. At 48 West, you will find senior executives with Fortune 100 experience leading strategy development that delivers revenue generation. Our teams understand the multi-layered world of global marketing, reputation management, marketing partnerships, and distribution channels. To see what 48W can do for you visit www.48westagency.com.