I Feel Love: SAZ Performs at Sayer's Club Los Angeles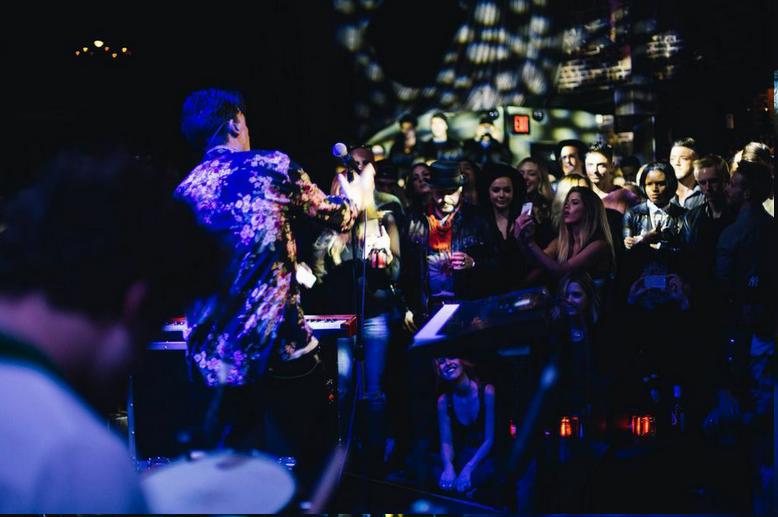 The "BAM Boogie Nights" at Sayers Club hosted by Sean van der Wilt on Saturday, December 7th was the perfect showcase forthe emerging talent SAZ, and van der Wilt featuring KEZ. The intimate living room performance experience at Sayers is built on interiors that include mixed materials including reclaimed wood and steel. It presents itself as an environment of comfort, inclusion and experimentation, where guests can be found relaxing on leather-tufted sofas, beneath the warm glow of Edison lighting. On the outside Sayers is nondescript, but the inside takes the hidden bar concept to the next level with an intimate secret space that is perfect for debuting new talent.
Located in the heart of Hollywood, the avant-garde club is best known for displaying a diverse program of new entertainers in a live performance setting. The club management has created a welcoming environment that promotes inclusivity in a very intimate and contemporary performance space. Managed by avid music fans, the room is always filled with immensely creative types ready and willing to experiment with different music genres and let loose. The Boogie Nights Christmas Disco party was no exception.
The night's performances kicked off with the multifaceted performer, singer and songwriter van der Wilt. Returning to what he called his favorite aspect of entertainment, singing, van der Wilt delivered with a high energy performance. A highlight of the performance was the rece
ntly dropped video of his newly released single, "Silence" featuring KEZ. Silence is made even more beautiful through the sign language KEZ employs as part of the performance, demonstrating that more inclusion within the arts is both important and relevant now more than ever. Recently van der Wilt revealed on 20/20 that he is losing his hearing in one ear, so the lyrics of this song are especially dear to him. Both entertainers know it's important to have interpreters at live music performances because music is about connecting with people. Interpreters break down barriers and allow for equal access to the overall experience. van der Wilt and his dance crew delivered his infectious and inspired set with a very cheeky sense of humor.
van der Wilt's performance was followed up by a new Los Angeles based singer/songwriter, SAZ, who is entering the music scene with magnetism and electric energy. Inspired by the foreign, ancient cultures, in addition to avant-garde fashion and existential expression, SAZ weaves old-world magic with galactic whimsey throughout his music to invoke a greater sense of connection to the universe. His music intends to awaken the spirit and heal the heart. His three-song set took us on a tour through a world of universal love, acceptance and compassion. SAZ took the stage to perform two songs from his latest studio work and gave us a spirited rendition of Donna Summer's "I Feel Love". The two original songs he performed delivered a deeply personal message.
van der Wilt continues to create innovative live performances for the management team at Sayers. The mysterious Sayers Club is only open on Tuesdays, Thursdays, and Saturdays. To get in and experience this unique concept club, you will need to get your name on the list. 
The Sayers Club
Where: 1645 Wilcox Ave., L.A.
When: Tuesdays, Thursdays and Saturdays, beginning at 10 p.m.
Price: No cover, but the list is tough.
Info: (323) 871-8233