Smithsonian Affiliate Western Spirit: Museum of the West Chooses 48 West as PR & Marketing Services Provider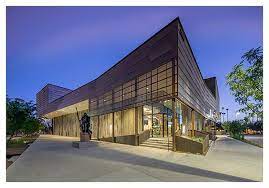 PHOENIX, Ariz., September 21, 2018—48 West Agency—a leading marketing and public relations agency that solves complex marketing and public relations challenges have been awarded marketing research and strategic marketing projects for Western Spirit: Scottsdale's Museum of the West. The organization boldly immerses its guests in the unique story of the Greater Western region.
The attraction, located in Old Town Scottsdale, features changing and ongoing exhibits of Western and Native American art, rare artifacts and cultural pieces on loan from prestigious collectors and institutions. The institute has been a Smithsonian Affiliate since 2015 and is repeatedly named "Best Western Museum" in the nation (True West magazine).
"Once you step foot on the property, you are keenly aware this is a special place," said Leigh Dow, Founder, and CEO of 48 West. The contemporary museum building is an example of responsible sustainable architecture, the collections are beautifully curated and the museum store is the perfect place to find a unique gift."
"XXXXX," said Kathleen Thompson, Director of Data Science and Strategy.
Western Spirit: Scottsdale's Museum of the West engaged 48 West to conduct detailed market research, inclusive of focus group and online survey analyses, in order to develop and deliver the 2019 marketing plan. The team will collaborate with the Museum to deliver market research and marketing strategy aligned with the organization's growth plans. 48 West will conduct focus groups and online surveys to gather feedback from a wide audience covering current patrons as well as art aficionados who have never visited the museum. The results of this research, combined with a thorough market study will drive recommendations for the organization's branding and creative initiatives led by Kitchen Sink Studios.
About 48 West Agency
48 West Agency (48W) is an award-winning, full-service boutique agency providing creative solutions to your toughest marketing and public relations challenges. At 48 West, you will find senior executives with Fortune 50 experience leading strategy development that delivers revenue generation. Our teams understand the multi-layered world of global marketing, public relations, reputation management, marketing partnerships, and distribution channels. To see what 48W can do for you visit www.48westagency.com.